Oklahoma Car Accident Lawyer
Car accidents are so common, if you haven't been in one already, you likely will at some point in your life. And if the crash ends with serious property damage or devastating personal injuries, you'll need an experienced car accident attorney- and our team at Bryan & Terrill Law is ready to help.
Each year, thousands of Americans die and millions more sustain injury on our nation's roadways. According to the Centers for Disease Control and Prevention, an average of 32,000 are killed and an additional 2 million are injured each year in motor vehicle crashes. The U.S. crash rate death is higher than other high-income countries, and our seat belt use is lower. Alcohol plays a role in one in three crash deaths, and almost one in every three crashes involved speeding. Injuries and property damage cost Americans billions of dollars each year.
Car Accident Resources
Why You Need an Attorney After a Car Accident
If you sustained an injury in a motor vehicle accident, and someone else was at-fault, you have certain rights under Oklahoma law. A personal injury lawsuit is an essential part in our civil justice system, as it helps victims of negligence find financial recourse for their injuries. No one should have to struggle under the weight of medical bills and lost wages when their injuries occurred through no fault of their own.
Hiring a personal injury attorney can help protect your best interests, and defend your rights, following a motor vehicle accident. Here's how:
They'll negotiate with your insurance company. Insurance companies have one goal; to pay out as little as possible for a claim. If you're working solo with a claims adjuster, you might find the insurance company keeps making unacceptably low offers. A personal injury attorney can help you determine how much your claim is actually worth and will negotiate aggressively on your behalf to secure the compensation you deserve for your injuries, pain, and suffering.
They know car accident law. The state of Oklahoma sets certain filing deadlines for lawsuits. A personal injury attorney knows the statute of limitations as well as the necessary procedures to file a lawsuit for damages in Oklahoma.
You may underestimate your own claim. Most victims of car accidents don't know how much their claim is worth. As a result, they may ask an insurance company for less than what they deserve. A personal injury suit considers not only the extent of your medical bills and lost wages but also your intangible losses, which include pain and emotional distress.
They'll conduct a thorough investigation. When you're in a car accident, a police officer will respond to the scene and file a report. Both insurance companies will also conduct independent investigations. However, these investigations may be flawed. Insurance companies are looking for evidence to not pay out a claim, and the responding police officer may be overloaded with cases. A personal injury attorney can protect your best interests by conducting a thorough investigation into the crash and determining who was responsible.
They aren't afraid to go to court. Often, the simple act of getting a lawyer involved will encourage insurance companies to take you more seriously. While many cases settle out of court, you need someone by your side who is willing to take your case to litigation if it becomes necessary. You can meet directly with our top-rated attorneys in a free consultation.
An attorney will protect you from financial losses. If you don't have an accident attorney on your side, you could be facing financial losses from your accident. Recovering damages in a personal injury lawsuit is the best way to protect your best interests and ensure that you don't pay the price for someone else's negligence. Best of all, personal injury attorneys work on a contingency-fee basis, which means you won't owe a fee unless your lawyer wins a settlement or court judgment on your behalf.
Determining Fault in a Car Accident
Determining who is at fault for an accident can be a complex process. If a motor vehicle accident results in injury, police officers will report to the scene and conduct an investigation. A car accident investigation involves talking to witnesses, collecting evidence (such as skid marks and examining the damage). After talking to those who witnessed the accident and making his or her own observations, a police officer will make a preliminary determination of fault for their report.
Although police reports can be valuable in a car accident case, it's important to remember that they are not always admissible in a court of law. This is because they often contain subjective information – in other words, what a police officer thinks happened in a car accident. Often, our team of personal injury attorneys will conduct their own forensic investigation to present evidence that will be admissible in court, should litigation become necessary.
Most car accident cases settle out of court. In this case, the insurance companies involved will conduct an investigation into the accident and determine who is at fault. If the driver's share fault, only the victim who is less at fault can collect damages, but these will be reduced by their degree of liability. This is called the rule of comparative negligence. For example, if you incur $100,000 in damages, but an investigation determines you were 20% at fault for an accident, you will only be able to collect $80,000.
Oklahoma Crash Statistics
In 2016, 628 Oklahoma residents lost their lives in motor vehicle crashes – 27.5% of these fatalities involved alcohol use. According to the Oklahoma Highway Safety Office:
Crashes are statistically more likely throughout the state on Friday afternoons – nearly a fifth occurred in this time frame.
Males are more likely to die in car crashes in Oklahoma – nearly ¾ of fatalities were men.
The majority of car crashes throughout the state involve more than one vehicle.
Nearly 2/3rd of crashes occur in clear weather conditions.
Drivers between the ages of 16-20 were involved in almost 19,000 crashes.
Speeding as a Factor
Aside from alcohol use, one of the leading causes of motor vehicle crashes is speeding. The National Highway Traffic Safety Administration notes that speeding is a factor in nearly a third of all crashes. In Oklahoma, there were 9,000 speeding related crashes in 2015. Consider the following:
Speeding crashes are most likely to occur between the hours of 3pm and 6pm, or during the afternoon commute.
One fifth of speeding accidents occur on a Friday
Speeding accidents killed over 100 people throughout the state, and injured 6000 more.
As a whole, speeding crashes cost U.S. taxpayers in excess of $40 billion each year.
Alcohol-Related Crashes
Alcohol also plays a large role in crashes throughout the state. In Oklahoma:
10% of alcohol-related crashes take place between 2am and 3am.
Most alcohol-related crashes throughout the state involve only a single vehicle.
25% of alcohol related crashes occur on a Saturday.
Fatal Crashes in Oklahoma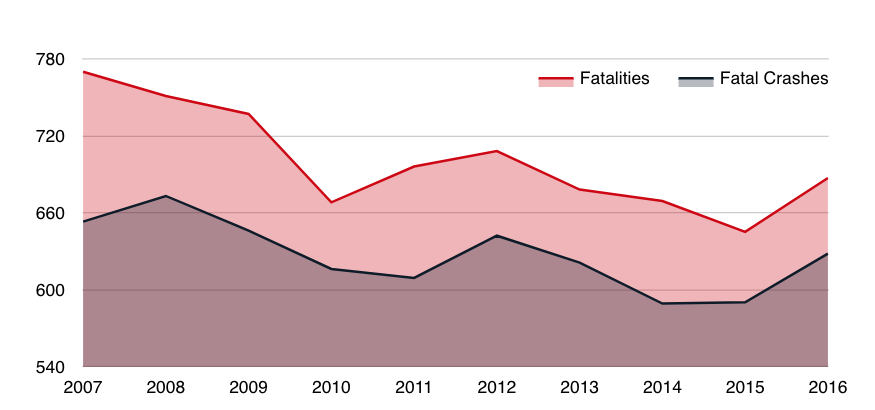 Source: Highway Safety Office, Oklahoma 
Hundreds of individuals lose their lives in fatal crashes across Oklahoma each year. These accidents have several factors in common:
The most affected age groups in Oklahoma are drivers aged 16-20 and 46-50, comprising 10% and 12% of all fatalities, respectively.
One in five fatal accidents occurred between the hours of 5pm and 8pm.
If you or a loved one were recently injured or killed in a car accident, you may have more questions than answers. Victims often wonder how they will pay for their medical bills, compensate for lost wages, and make ends meet while they recover. Thankfully, our accident attorneys have answers to all of these questions. If negligent driving is behind a fatal car crash, as is more often the case, our wrongful death lawyers will help hold the guilty parties accountable.

For More Information on Oklahoma Traffic Fatalities and Statistics Click Here.
Types of Car Accidents
Car accidents occur in virtually limitless ways, but some forms of car accident are more common than others. Some of the most common types of car accidents in Oklahoma include:
Rear-End Crashes. These types of accidents occur when one car hits the car in front of it. These may be caused by rapid deceleration, or failure to assure a safe following distance. In this type of collision, the rear vehicle is almost always at fault. A notable exception would be multi-vehicle domino effect crashes – for example, a rear vehicle crashes into another at high speed, and the force of the impact slams that car into the one in front of it. In this case, the middle vehicle and the one ahead of it may be able to file a claim against the rear driver.
Side Impact Crashes. These crashes may also be called broadsiding or "T-bone" collisions. They occur when the side of a vehicle is impacted by another. Both property damage and injuries are usually more extensive in these scenarios compared to rear-end collisions. The gravity of these injuries will depend on the weight and speed of both vehicles.
Sideswipe Collisions. When two parallel cars touch each other, it's called "sideswiping." In slow speed crashes, this is likely to result only in cosmetic damage. However, high-speed crashes can lead to more dangerous situations and injuries.
Vehicle Rollover. A vehicle may roll over when it's turning or traveling at high speeds. SUVs are at highest risk for rollover crashes, and these situations can be deadly.
Head-On Crashes. When the two fronts of vehicles hit one another, it's called a head-on collision. These types of crashes can result in incapacitating injury or death, especially when they occur at high speeds.
Your Car Accident Attorney
Car accidents require an experienced hand. If you are struggling to make ends meet following an injury,
contact us for a free initial consultation. Let us help you get the compensation you deserve for your injuries. With more than 30 years of experience and many multi-million awards recovered for clients, we hope you can trust Bryan & Terrill Law to go above and beyond on your behalf.
"Extremely professional and respectful in all aspects of your representation. Sincerely take the time to understand your unique situation and make your concerns a priority during the process." – Jeremy Brimm